The online trade information hub Central Asia Gateway – InfoTradeCentralAsia.org – received the 'Best Trade Information Portal' award at the World Investment Forum, a biennial gathering of heads of state, CEOs, ministers and heads of international organizations held from 16 to 20 October 2023 in Abu Dhabi, United Arab Emirates.
The platform was developed under the Ready4Trade Central Asia Project, which is funded by the European Union and implemented by the International Trade Centre (ITC) and with technical support of the United Nations Conference on Trade and Development (UNCTAD).
Facilitating trade through data sharing
The Central Asia Gateway is an ITC solution developed in close collaboration with partners in all five Central Asia countries: Kazakhstan, Kyrgyzstan, Tajikistan, Turkmenistan and Uzbekistan.
The platform combines these countries' National Trade Facilitation Portals (TFP) – also developed with ITC support under the Ready4Trade Central Asia Project – into a single online platform, providing users easy access to information on cross-border trade formalities in the region.
The Central Asia Gateway and its network covers 280 trade flows in Central Asia and has had 195,000 visitors since its launch in May 2023.
Building a conducive business environment
The Central Asia Gateway provides a regional index to compare trade formalities and an overview of trade formalities along corridors in the region to foster dialogue among policymakers and private sector operators, facilitating the benchmarking of procedural requirements and assisting in the design and implementation of roadmaps to reach trade facilitation goals.
The online platform enhances transparency throughout supply chains, reducing costs, time and effort required to access trade-related information, minimizing border shipment delays, improving efficiency along corridors and boosting regional trade integration.
'The Central Asia Gateway is an important step to enhancing trade cooperation among the five countries of the region. It makes Central Asia a bigger and more resilient market and a stronger international trade player. It enables intraregional trade go faster and smoother. It makes Central Asia an even more important partner of the European Union,' said Kestutis Jankauskas, Ambassador of the European Union to the Republic of Kazakhstan.
ITC Executive Director Pamela Coke-Hamilton said: 'This award is in recognition of Central Asian countries' efforts to make trade faster, easier and less costly for businesses in the region, including small businesses. We'll continue to work alongside policymakers and businesses to build on the progress that's been made.'
Paving a clear path forward
Earlier this year, His Excellency President Kassym-Jomart Tokayev of Kazakhstan at the fifth Consultative Meeting of the Heads of State of Central Asia proposed the idea of expanding the Central Asia Gateway with the creation of a unified electronic database for commodity producers. This initiative would further drive trade and investment facilitation, especially in Kazakhstan, where 'intraregional trade turnover in the country has increased by over 80% to $10.6 billion over the past five years', he said.
Speaking on the margins of the award ceremony, Mr. Nurlan Kulbatyrov, Deputy Director General of the Center for Trade Policy Development (QazTrade), ITC's partner in Kazakhstan, added: 'Central Asian countries have set ambitious targets for increasing exports. For small and medium-sized businesses, the Central Asia Gateway is an excellent tool which offers opportunities to connect to new markets thanks to a door-to-door overview of cross-border formalities along Central Asian corridors. Through this one and only portal, traders can obtain information on the rules and procedures to import, export and transit, including all forms and documents required in Central Asian countries.'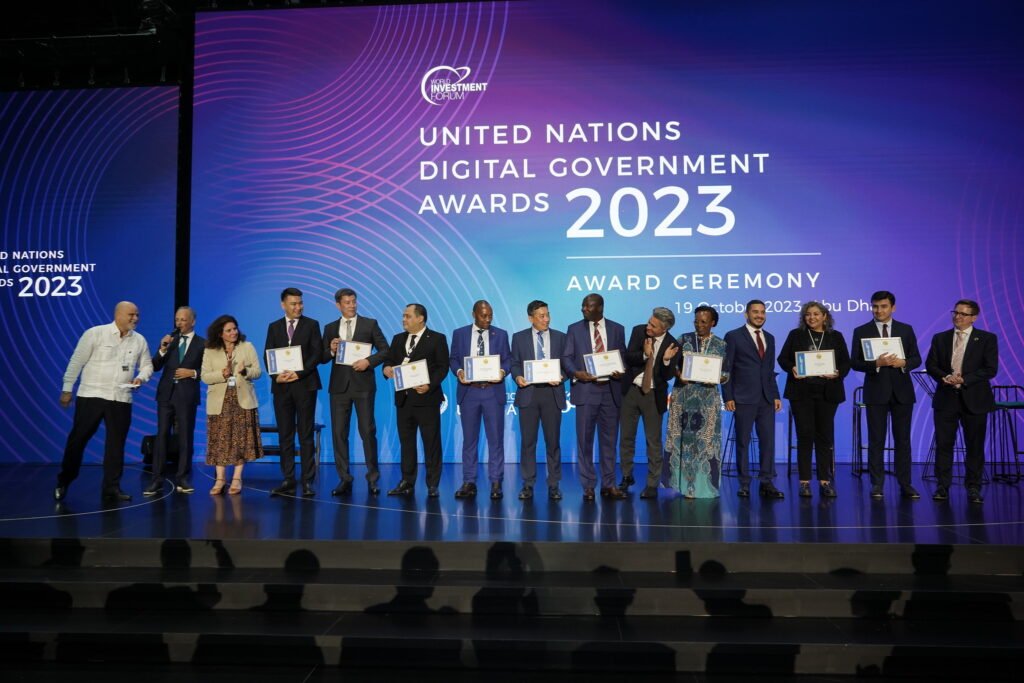 This award underlines the progress achieved by Central Asian countries in enhancing trade facilitation in the region and connecting to international markets, in compliance with the World Trade Organization's Trade Facilitation Agreement.
The International Trade Centre is the joint agency of the World Trade Organization and the United Nations. ITC assists small and medium-sized enterprises in developing and transition economies to become more competitive in global markets, thereby contributing to sustainable economic development within the frameworks of the Aid-for-Trade agenda and the United Nations' Sustainable Development Goals.